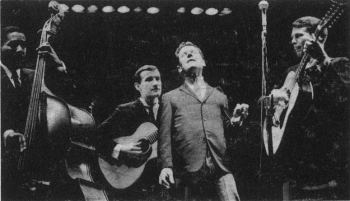 Bob Gibson & Bob Camp at Newport, 1960
L->R: Herb Brown, Dick Rosmini, Bob Camp, Bob Gibson
Hamilton's career in music goes back four and a half decades, to his initial association with
Bob Gibson
. Brought together by Albert Grossman, a master at identifying musical talent (Bob Dylan, Gordon Lightfoot, Peter, Paul and Mary, the Canadian duo Ian and Sylvia, as well as Bob Gibson and Bob Camp were in his "stable" at roughly the same time), Hamilton performed with Bob Gibson at the 1960 Newport Folk Festival, and they then went on to many performances together at the Gate Of Horn, a Chicago folk club. Performing then as Bob Camp, he and Bob Gibson recorded one of the most influential folk albums of its time,
"Bob Gibson and Bob Camp at the Gate of Horn"
, recorded in April, 1961. Their song, "You Can Tell The World", was picked up by Simon and Garfunkel and appears on their first album, Wednesday Morning, 3AM. "Well, Well, Well" was recorded by Peter, Paul and Mary and Ian and Sylvia.
| | |
| --- | --- |
| | |
| Bob Gibson & Hamilton Camp at Earl of Old Town, Chicago, December 1972. L->R: Guy Guilbert, Hamilton Camp, Bob Gibson. ©2006 ChicagoPaul, legutki@sbcglobal.net | |
Although Gibson and Camp did not stay together long, each going his own separate way in a different part of the country, and in Hamilton's case concentrating on acting, they got together many times over the next three decades to reprise their early performances. In 1978, they released another album together called
"Homemade Music"
(Mountain Railroad Records). This album was released on CD for the first time in March 2008, and is available from the
online store
at this web site. In April, 1986, Gibson and Camp reunited to record a second live album -
"...Revisited"
celebrating the 25th anniversary of the first and repeating the original set list and commentary. They also added three additional signature songs including a Lightfoot classic, For Lovin' Me - perhaps returning the favor, as Lightfoot had recorded Hamilton's
Pride Of Man
on his very first album. Pride Of Man was also covered by Quicksilver Messenger Service in 1967, probably the most well known cover of that song.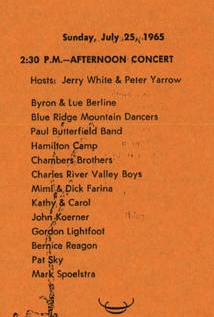 From the Newport 1965 program
In addition to his groundbreaking work with Bob Gibson, Hamilton cut several solo albums for Elektra and Warner Bros in the 60s and 70s. His debut solo album was
Paths Of Victory
in 1964, an amazing album including no less than seven Dylan covers, some of them very obscure. (Grossman had a hand in that, of course, as he did when Lightfoot covered Hamilton's song). Paths Of Victory also included Hamilton's own recording of Pride Of Man.
In 1965, Hamilton returned to the Newport Folk Festival performing on Sunday afternoon, July 25th in the "New Folks" concert. He was performer #4 that afternoon; Gordon Lightfoot was #10. That same evening, Bob Dylan would take the stage for his legendary Newport performance.
| | |
| --- | --- |
| | |
| The Skymonters With Hamid Hamilton Camp, also at Earl of Old Town, Chicago, December 1972. L->R: Lewis Arquette, Hamid Hamilton Camp, Jakob Ander, Lewis Ross. Not pictured, Rusdi Lane. ©2006 ChicagoPaul, legutki@sbcglobal.net | |
In 1967, Hamilton released his second solo album, Here's To You; the title song reached #76 on the Billboard pop charts, and was recorded by Ian & Sylvia for their 1968 album Full Circle. Two years later (1969) he released Welcome To Hamilton Camp, and in 1973 he released an album with a group of friends (Skymonters). The second and third Gibson and Camp albums mentioned above followed in 1978 and 1986. In 1999, he released his fourth solo album, Mardi's Bard. Of course all through this period, Hamilton was working as an actor in plays, movies and on TV; you can read more about this in the "Acting" section of this web site.

He continued to perform at music festivals and clubs internationally until his death in 2005, while also working as an actor.
Hamilton finished his final CD, Sweet Joy, in the Fall of 2005, completing the artwork just days before his death.
The albums that have been released on CD are available for purchase at the online store at this web site. There are clips of all the songs on each of the CDs; you can visit the page for each album by starting at the Discography page and clicking on the album title.