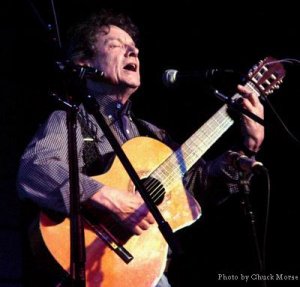 I didn't go down there with the idea of writing a report, so I can only share some informal observations - with an apology because I didn't catch most of Saturday's show. But the weekend was so outstanding, that I wanted to share with you a bit about it.
This year was WFMA's 20th anniversary and they brought together a wonderful group of folk musicians, including several legends from the past. Performers were Oscar Brand, Buskin and Batteau, The Brothers Four, Hamilton Camp, The Chad Mitchell Trio, Bill Danoff, Steve Gillette & Cindy Mangsen, Carolyn Hester, The Highwaymen, Christine Lavin, The Limeliters, Tommy Makem, David Mallett, Modern Man, Jane Olivor, Schooner Fare, Side by Side, Debi Smith, Tom Paxton, and Noel Paul Stookey. Much of the MC role was filled by Sonny Ochs, the lovely sister of Phil Ochs, and a mainstay of the folk scene throughout her life. What an amazing cast they assembled!
In addition to two evenings of concerts at The Birchmere, there were two afternoon workshop concerts, giving me another chance to catch some of the performers, and Hamilton Camp and Steve Gillette and Cindy Mangsen performed again at a local club on Sunday night, after the WFMA events were over.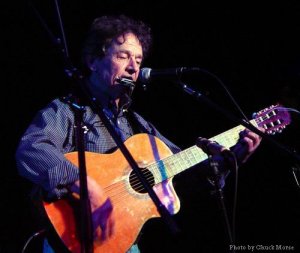 This trip was my first time meeting Hamilton Camp in person, having met him online in early 2004, and having launched his web site in April of that year. Highlights of his Friday and Sunday sets were the wonderful The Highway Is Here, available on his 1999 CD Mardi's Bard, and one of his new songs which I think he calls Celts, using two classic poems (by Yeats and Byron) set to a beautiful melody. On Sunday he also introduced Sweet Joy, a beautiful and haunting song dedicated to his late wife. Look for these new songs on his upcoming CD which should be released later this year. (The new CD, Sweet Joy, was released in November 2005, a month after his death).
Lightfoot too: Hamilton also delivered on his promise to this Lightfoot fan by singing two Lightfoot songs during his set on Sunday: The Gypsy and A Passing Ship. These are both songs from deep within the large Lightfoot catalog, and a pleasure to hear performed by another artist who holds him in high regard.
A charming highlight for me was when Hamilton introduced me to Noel Paul Stookey - who felt it necessary to say that he was "Paul, from Peter, Paul and Mary". Of course I told him I knew that, but it was somewhat bittersweet that he felt it necessary to say so!
For those of you in the Washington, DC area, the annual WFMA weekend is something to watch for. It is held the third weekend of January, and certainly stands among the best folk events of the winter. Even if you are out of the area, it is something to consider for a winter vacation. I met several people who had come in from various places around the country, in some cases to see one favorite act live. It was well worth the trip.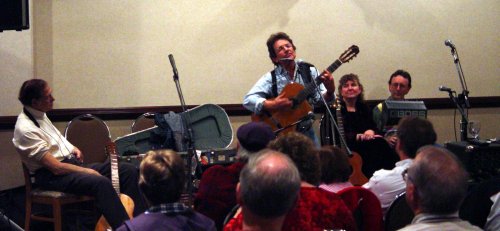 Hamilton performs at workshop as Oscar Brand (left) and Side by Side look on
Photo by Chuck Morse
--Valerie