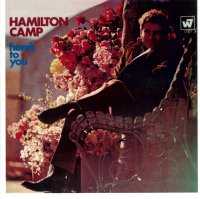 Listen to clips of all the songs here
Like a lot of early-'60s folkies, Hamilton Camp got more rockin' as the decade wore on, and on this 1967 album — with the aid of such all stars as Jerry Scheff, Van Dyke Parks, Hal Blaine, Earl Palmer, Bud Shank and producer Felix Pappalardi — he turns in what amounts to a lost sunshine pop classic! The hit title track is probably the best-known song, and reached #76 on the pop singles chart in 1968.
Here's To You was released on CD-R on the Tartare label in late 2010, at about the time its parent company was bought out by a distributor. The artwork was not well done (it looks like a bad scan of the record jacket, and the image does not fill the entire surface). After a brief sojourn on the distributor's shelves, it was dropped. I had a handful of copies available, for people who don't "do digital". Although I was given the opportunity to return them, I did not. Unfortunately, they're gone now ...
Note:
There is also a later recording of Here's To You, available on Hamilton's 1999 CD, Mardi's Bard, which is available.